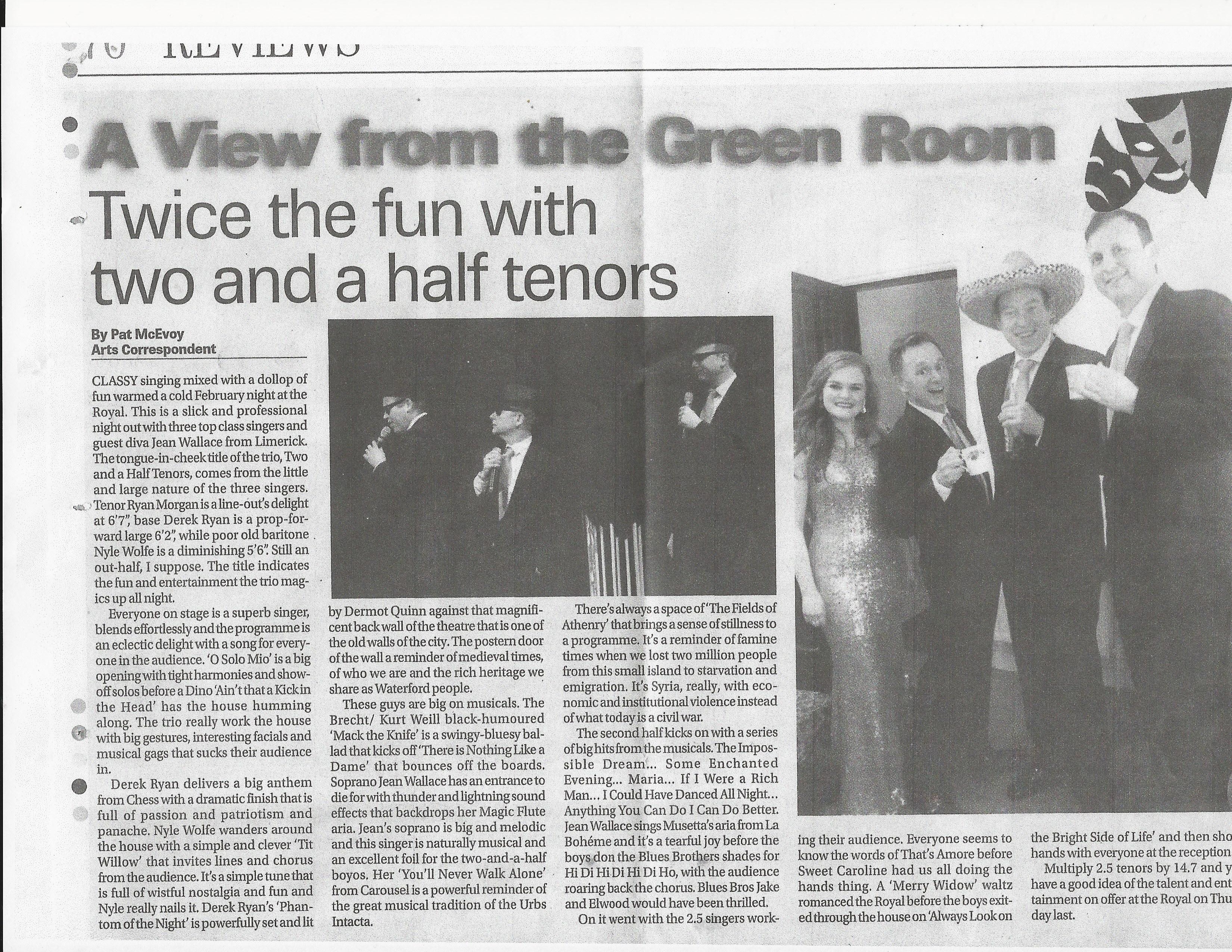 "Twice the fun with Two and a Half Tenors"
Pat McEvoy, Arts Correspondent, Waterford News and Star
Classy singing, mixed with a dollop of fun, warmed a cold February night at the Royal. This is a slick and professional night out with three top class singers and guest diva Jean Wallace from Limerick. The tongue-in-cheek title of the trio, Two and a Half Tenors, comes from the little and large nature of the three singers. Tenor Ryan Morgan is a line-out's delight at 6'7", bass Derek Ryan is a prop forward large 6'2", while poor old baritone Nyle Wolfe is a diminishing 5'6". Still an out half I suppose. The title indicates the fun and entertainment the trio magics up all night.
Everyone on stage is a superb singer, blends effortlessly and the programme is an eclectic delight with a song for everyone in the audience. "O Sole Mio" is a big opening with tight harmonies and show-off solos before a Dino "Ain't That a Kick in the Head" has the house humming along. The trio really work the house with big gestures, interesting facials and musical gags that sucks their audience in.
Derek Ryan delivers a big "Anthem" from Chess, with a dramatic finish that is full of passion and patriotism and panache. Nyle Wolfe wanders around the house with a simple and clever "Tit Willow" that invites lines and chorus from the audience. It's simple tune that is full of wistful nostalgia and fun and Nyle really nails it. Derek Ryan's "Music of the Night" is powerfully set and lit by Dermot Quinn against that magnificent back wall of the theatre that is one of the old walls of the city. The postern door of the wall is a reminder of medieval times, of who we are and the rich heritage we share as Waterford people.
These guys are big on musicals. The Brecht/Kurt Weill black-humoured "Mack the Knife" is a swingy-bluesy ballad that kicks off "There is Nothing Like a Dame", that bounces off the boards. Soprano Jean Wallace has an entrance to die for with thunder and lightning sound effects that backdrops her Magic Flute aria. Jean's soprano is big and melodic and this singer is naturally musical and an excellent foil for the two and a half boyos. Her "You'll Never Walk Alone" from Carousel is a powerful reminder of the great musical tradition of the Urbs Intacta.
There's always space for the "Fields of Athenry" that brings a sense of stillness to a programme. It's a reminder of famine times when we lost two million people from this small island to starvation and emigration. It's Syria really, with economic and institutional violence instead of what today is a civil war.
The second half kicks on with a series of big hits from the musicals, The Impossible Dream…Some Enchanted Evening…Maria….If I Were a Rich Man…I Could Have Danced All Night…Anything You Can Do I Can Do Better. Jean Wallace sings Musetta's aria from La Bohème and it's a tearful joy before the boys don the Blues Brothers shades for "Hi de Hi de Hi de Hi", with the audience roaring back the chorus. Blues Brothers Jake and Elwood would have been thrilled.
On it went with the 2.5 singers working their audience. Everyone seems to know the words of "That's Amore" before "Sweet Caroline" had us all doing the hands thing. A "Merry Widow Waltz" romanced the Royal before the boys exited through the house on "Always Look on the Bright Side of Life" and then shook hands with everyone at the reception.
Multiply 2.5 tenors by 14.7 and you have a good idea of the talent and entertainment on offer at the Royal on Thursday last.